Drive in Pallet Racking System
Product Detail
Packaging
Product Tags
Drive in pallet racking system is a high-density storage system used in rack warehouses to store pallets in a first-in/last-out (FILO) manner. Pallets are loaded and retrieved from the front side of the storage racks, and the forklift drives directly into the racks of the racks to reach the stored products. The last pallet loaded becomes the first accessible pallet, resulting in a denser and even load in the limited storage area.
Drive-in racking systems provide low-cost and high-density storage solutions for customers with a small number of SKUs. The drive-in racking system loads from back to front (first-in-last-out), because the forklift does drive into the racking system, load the pallets on the guide rails, and then exits from the racking system. Since the system is loaded from back to front, it must be unloaded from front to back.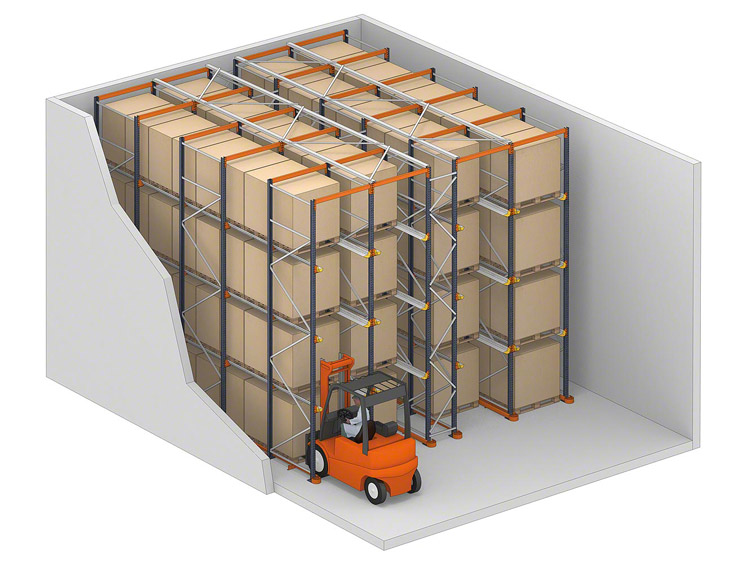 The traditional warehouse storage pallet rack is an excellent storage solution for various warehouses and distribution centers. However, if you have a large amount of inventory that is moved regularly, drive-in pallet racks are high-density, space-saving storage solutions that you may need to seriously consider. Although traditional static warehouse rack storage allows multiple rows of pallet racks with aisles between each row, driving in racks allows more densely arranged products. Compared with traditional multi-aisle selective racking systems, both drive-in and straight-through racking systems allow more efficient use of available space.
Advantages of Drive in Pallet Racking System:
High storage density for certain product mixes
Low capital investment vs. other high-density options
Very efficient storage (ability to store pallets back-to-back without aisles)
Applications of Drive in Pallet Racking System:
Cold Storage
Food & Beverage
Grocery
Manufacturers with limited SKU counts
Producers with limited product variation, date segregated production, or batch production
---
Previous:
Warehouse Storage Selective Pallet Rack
---
Write your message here and send it to us