If you are looking for small parts plastic storage bin on a low cost budget, our stackable plastic storage bins could help. The details of our beautiful and functional bins or boxes are below:
1. Back hang plastic storage bins
The 1st light blue type is called the back hang type plastic storage bins, please find below the photo show about how to use them, they will be easily back attached to a steel panel with hooks on it, help to save space and looks tidy and beautiful, and we have 5 different dimensions with blue, yellow and red colors for you to choose.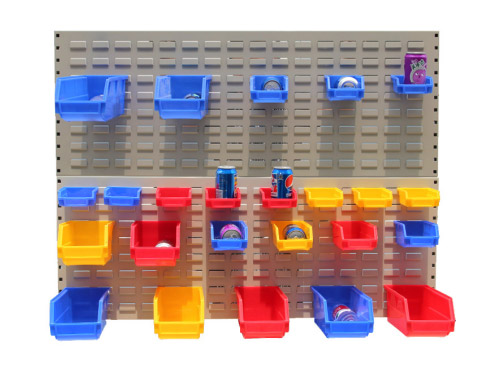 2. Stackable plastic storage bin
The 2nd deep blue type is called the stackable plastic storage bin, which is also the most popular and well-sold product, they are with stackable posts to collect each other together, to realize a beautiful and steady storage system, help to save space, we have 7 different dimensions to best fit your needs, still, we have 3 colors for you: blue, yellow and red.
3. Plastic storage bins with dividers
The 3rd type with dividers is called the storage bins with dividers, to meet the requirement of our clients who will need separate storage areas, it is the perfect system to divide your storage area, perfect for picking locations with different products stored, our users will find what they need easily,
With our fully trained support staff on hand to help, we are also offering lead times of one week dependent on the project size and color, however, usually, we have stock, can despatch the goods to you in the next day once you confirm the order and payment, If you would like more details on our storage bin plastic products, feel free to drop me a message Kelly Peng at Cell/Wechat/Skype/Whatsapp: +86 17350825815, We can help you store anything, big, small, short or, tall. Hope you have an amazing weekend!
---
Post time: Aug-23-2021