Warehouse Drive in Racking System
Product Detail
Product Tags
Warehouse drive in racking is a type of first-in-last-out storage racking. Drive in racking is used for large quantities of goods that are not often circulated. It is generally not recommended for rack warehouses with daily incoming and outgoing goods, unless there are special needs in logistics planning. The sturdy structural design and special surface treatment of the tool cabinet can adapt to the more complex working environment of the factory.
Drive-in racking systems have typical advanced and last-out storage characteristics; most forklifts are operated in a continuous "lifting high" mode. The center of gravity of the goods is high after the goods are lifted, and the forklift is likely to shake and collide with the unevenness of the aisle ground. The shelf will affect the stability and safety of the drive in racking structure. Therefore, the driver's driving skills are relatively high, and the turnover speed and efficiency of the goods are also affected to a certain extent. The workbench can be equipped with hanging boards, electrical boards, lamp top boards, shelves, and other desktop components, with a variety of options to meet the needs of various workstations.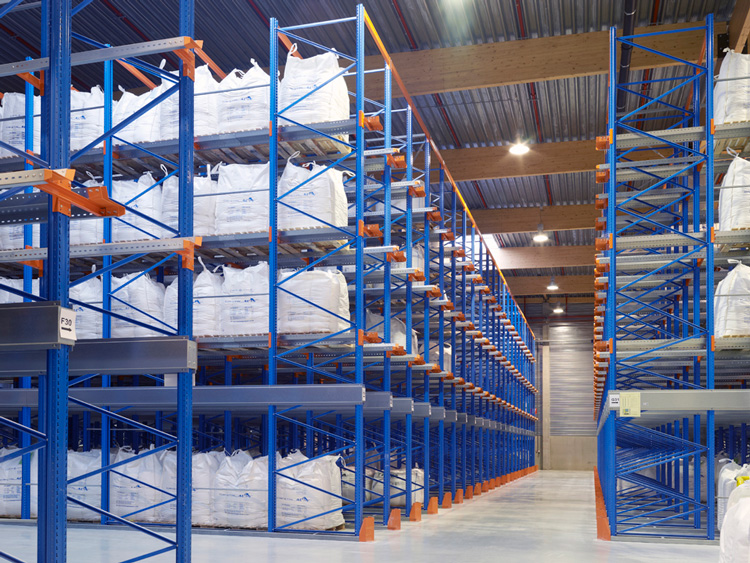 The structural design of the drive in racking system is the most critical factor in determining the quality of the storage rack. In addition, the material of the warehouse storage rack, production process production equipment, tooling fixtures, and electrostatic spraying will directly affect the quality and grade of the rack. Shelf storage racks are storage equipment, based on the six basic functions of logistics: packaging, transportation, loading and unloading, sorting, and information management.
The main structure of the warehouse drive in racking is a steel structure with multiple statically indeterminate spaces. It is quite cumbersome to calculate its strength, stiffness, and stability by traditional classical mechanics or dynamics methods. A simplified calculation model can be used in combination with domestic and foreign standard specifications and test data. Analyze and optimize the design. Currently. Most of them use finite element structural strength analysis and stability analysis for auxiliary design and full-scale load test verification.
The drive in racking is a door structure. In order to ensure its stability, the column slenderness ratio should not be too high. Usually, it should be controlled within 10 meters, and 4 floors and 3-5 rows or more are appropriate. Compared with the storage pallet racks of the same category, in addition to the steel cross-section specifications are larger, but also need to add tensile structural parts. The main accessories of drive in racking include column pieces, cantilever and cantilever beams, top beams, top diagonal rods, back diagonal rods, walking guide rails, foot guards, or bollards (protectors for the front passage of the shelf), etc.
---
Previous:
Slotted Angle Racks for Home Storage
---
Write your message here and send it to us