Very Narrow Aisle Pallet Racking also call VNA pallet Racking,is an adaptation of standard adjustable pallet racking(APR) systems which is designed to store pallets in a mechanical and functional way using forklifts accessing goods through aisles parallel to the racks.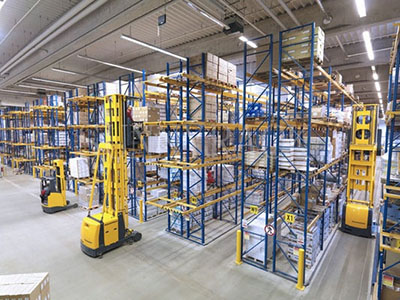 The VNA pallet rack system compacted into a very small area,creating a high density storage system that makes it possible to increase the capacity of the warehouse without expanding the space.
The compaction of the VNA pallet rack system is mainly generated by narrowing the work aisles which can be reduced by up to 1.5 metres in width and save up to 40% in space.
For warehouse operations with VNA pallet Racking,special handling equipment is required,such as VNA trucks or forklifts with rotating forks to simplify operations. Sometimes,to facilitate the operation of these trucks further ,a floor guidance system is designed to make sure the correct route is followed.
Despite the compactness of the space,very narrow aisle pallet racking remains a flexible system,since the height and depth of the racking are variable depending on the customer's storage needs. It also allows great use of the height available in the warehouse.
Very Narrow Aisle pallet racking combines the advantages of adjustable pallet racking and compact pallet racking systems with better use of the available space but maintaining direct access to all the stored unit loads.
In VNA Pallet Racking,access to the pallets is via the narrow aisles through forklifts especially designed for this storage system. The dimensions of the forklift enable its correct movement along the aisle,generally helped by a guidance system on both sides of the aisle or on the floor ensuring safer movements.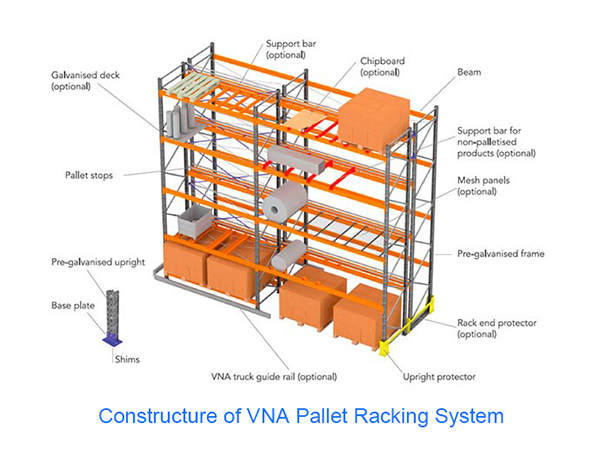 The Very Narrow Aisle Racking system allows its adaptation to picking or order collection needs,for which other types of handling equipment are used.
It is highly efficient and robust system,easy to assemble,and able to adjust and adapt the load levels depending on the goods to be stored,in terms of weight and volume.
Advantages of Very Narrow Aisle Racking (VNA):
1.Very Narrow Aisle pallet racking maintains direct access to all the unit loads,so it is a fully accessible and selective system.
2.Optimisation of the available space by reducing the work aisles can result in a total space saving of up to 40%.
Increased warehouse storage capacity by compacting the adjustable pallet racking system and enabling the addition of new pallet racking bays.
3.VNA racking also allows much better use of space at height.
4.Simple assembly,disassembly and re-adaptation of load levels to adapt to changes in storage needs.
5.Very Narrow Aisle pallet racking enables good control of the stored references,as the storage space coincides with a specific unit load.
6.It is adaptable to any type of goods,by weight or volume,regulating the load levels or adding any of the accessories for special loads that it has.
7.Allows pallet storage at floor level on the lowest level of the racking.
8.Possibility of converting a Very Narrow Aisle pallet racking system into an automated storage system by installing stacker cranes.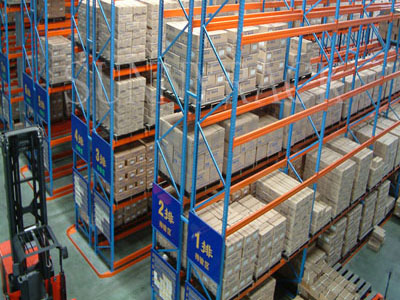 Very Narrow Aisle pallet racking is a widely used solution for being very versatile and for optimising space.It is especially recommended for companies whose warehouses have any of the following characteristics.
Main applications of VNA Very Narrow Aise Pallet Racking:
1.Warehouses that need direct and immediate access to each unit load,but which at the same time need to optimise the available space.
2.Warehouses with unit loads with very diverse references.
3.Warehouses with non-homogeneous products and that require high rotation.
4.Warehouses with reduced floor space,but with the possibility of installing a very high system.
---
Post time: May-16-2022