Chinese heavy duty gravity flow pallet racks wholesale online
Product Detail
Product Tags
Gravity Flow Pallet Rack Systems also known as gravity flow is a FIFO (first in, first out) dynamic pallet rack system,fully utilize available storage space and ensure the picking aisle has access to stocked pallets. In this first-in, first-out (FIFO) system, pallets are loaded at the top end of the slightly inclined rack. Then, pallets glide safely and effortlessly at a controlled rate to the front of the storage lane.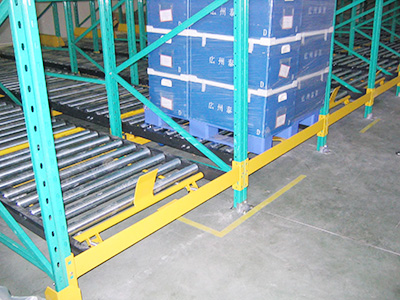 The heavy-duty Gravity Flow Pallet Rack systems are designed for years of trouble-free operations with rugged load-bearing wheels. Inventory rotation is quick and efficient, whether merchandise is moved strictly on pallets or as part of an order picking system. Save space and handling times in your installation.
Our Gravity Flow Pallet Rack Systems come in an infinite variety of layouts, depending on the individual flow rates and order picking requirements. These dynamic racks with rails are highly-suited to frozen-storage warehouses, food distribution or high-volumes of consumer goods. Gravity flow pallet racks are also good for buffer warehouses and dispatch areas where pallets need to be removed quickly. Every phase of the operation, from how it is fed to required outflows, etc., is carefully considered to provide the most efficient, customized system possible.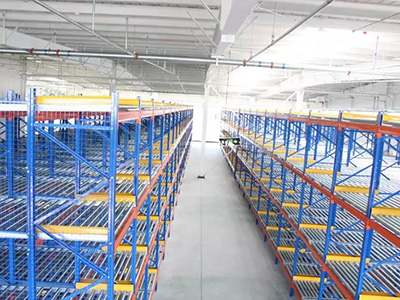 Our Gravity Flow Pallet Rack Systems makes it possible to achieve high density storage while maintaining FIFO retrieval order and handling efficiency. Gravity flow pallet racking maximizes storage space by minimizing aisles. They can be designed to hold up to 20 pallets deep in one lane, and allow for quick and efficient inventory turnover.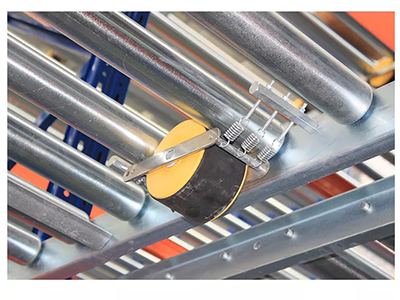 a High Density First In, First Out Management System,Gravity Flow Pallet Rack Systems are ideal for supplying pallet or carton loads of common SKUs in sorting and distribution operations. They also are a great option where high throughput is required or in a warehouse storage situation that calls for large volumes of each SKU.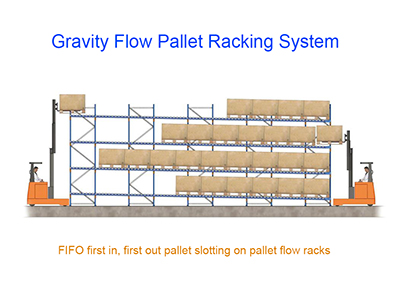 Advantages of Gravity Flow Pallet Rack Systems
(*)Optimum rotation of products with expiration dates
(*)An almost solid volume of usable storage space
(*)Space, manpower and utilities savings
(*)Space-saving, high-density storage
(*)Customized, tailor-made design and layout
(*)Dynamic "flowing" warehousing
(*)Fast — Immediate access to every product
(*)Versatile — well-suited to refrigerator or cold storage applications
(*)Practical and efficient
(*)Operation- friendly
(*)Tested for your unique application
(*)Time-saving — only one input and one output aisle
(*)Minimal maintenance and reliable
Customization is key in Gravity Flow Pallet Rack Systems, Spieth Storage offer multiple types of rollers to meet the demands of individual users' pallets and products. We can even customize Gravity Flow Pallet Racks with speed controller capacities that are uniquely designed for users' product weight ranges.As a Chinese pallet rack systems supplier,we're glad to service for you,welcome to contact us.
---
---
Write your message here and send it to us