What is a Boltless Shelf?
Boltless Rivet shelving, also called boltless shelving or rivet shelving,is a form of industrial storage configured without nuts or bolts. This type of shelving is designed for easy assembly, uses a simple single or double rivet system that locks in place to create incredibly strong steel shelving units.You can adjust and reconfigure boltless shelving quickly and easily, making it a versatile option for any warehouse or storage space. With no sway braces or panels, rivet racks are designed to provide easy access on all four sides. This makes loading and unloading much more efficient.Because of its design, rivet shelving can be considered a "clean" shelving option.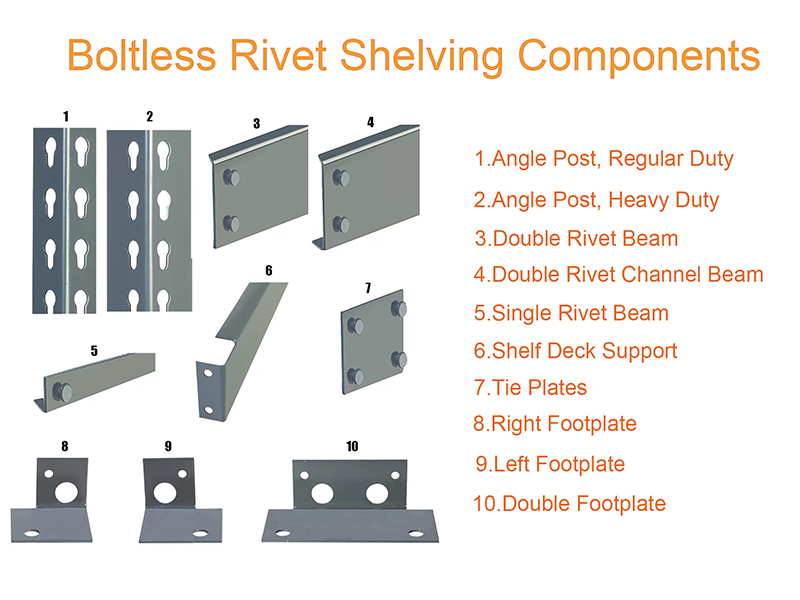 Boltless Rivet Shelving Components
Angle Posts – The vertical pieces that the beams attach to. Four angle posts are needed for each shelving unit.
Double Rivet Beams – Horizontal braces that connect to the posts to create the shelves. Double Rivet Beams are named because they have two rivets on each end to attach to the posts. They are 2.75" high and range in length from 12" to 96". Double Rivet Beams are used on the top and bottom shelves to provide structure and rigidity to the shelving units. Double Rivet Beams are also available as a channel beam to provide more capacity.
Single Rivet Beams – Horizontal braces that connect to the posts to create shelves in the middle of the units. Single Rivet Beams are named because they have one rivet on each end to attach to the posts. They are 1" high and range in length from 12" to 60".
Particle Board Decking/Laminated Particle Board Decking – Our Wholesale Products uses 5/8" industrial-grade particle board/Laminated Particle Board for decking. Boards sits on top of the beams to create the shelves for each unit.
Tie Plates – Used to connect side-by-side units
Footplate-Right Footplate/Left Footplate/Double Footplate
What is the Difference Between a Rack and a Shelf?
Industrial shelves store items that are easy to pick up with your hands, whereas racks may include bulk items such as cartons or boxes containing goods. Shelving units often include accessories for specialized use. For example, you can add bins, doors, or dividers to meet your needs.Racks usually used to hold pallets while most deliveries come in that format. Shelving racks help you to organize your warehouse and access product easily.
Applications
Boltless Rivet shelving can be used for simple backroom storage or other hand loaded storage applications. Great for large, bulky boxes or containers, odd shaped inventory and archive record storage boxes.
Assembly
Everything you need is shipped bulk packed and palletized for easy assembly. There are no nuts, bolts or other fasteners required.Typically, the only tool you need is a rubber mallet to help you secure the connection between the pieces,assembly takes minutes.
What Are the Advantages of Boltless Rivet Shelving?
Some of the advantages of boltless shelving include the following:
Boltless shelving units are simpler to put together and don't require additional hardware or tools. This saves time and effort during assembly.
Typically, you can complete the installation with only a rubber mallet.
Boltless shelving is free-standing for easy access, and it's ideal for warehouse storage, back room stock and parts storage.
---
Post time: Jun-20-2022